Inside our weather-proof camera housings are all kinds of different technologies - which can even vary depending on which part of the world your camera is to be installed in!
This diagram boils down the working of the camera into two main flows - control and data.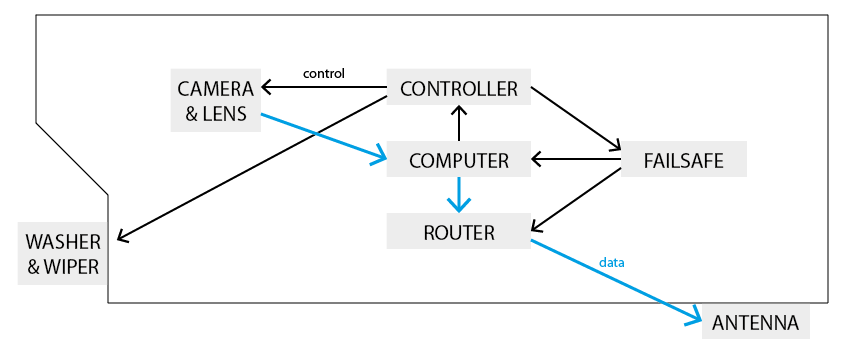 This parts list is not exhaustive:
Without these two we wouldn't be able to do much! We carefully choose our cameras and lenses to be as reliable as possible while also capturing the highest quality images. We have the space and the flexibility to change camera bodies as available technology improves, and pick the best lenses to best suit each project.
We can adjust many camera and lens settings remotely after installation, depending on the camera and lens used.
Some of our very wide angle lenses, for example, are manual-adjustment only.
We have an in-house developed controller unit, which gives us access to all functions of the camera system, and the camera itself. This is the heart of the system. It controls power to the camera, lens, washer and wiper system and other auxiliary parts. It also helps us communicate with the camera and lens to change settings remotely when required.
If the controller is the heart, the computer is the brain. We are able to use this computer not only to control the camera and save the photos coming from it, but also to work on the images and sometimes even generate un-edited timelapse movies in-system.
If you need super-recent timelapse films at short notice please contact us and we'll see what we can do!
Our routers connect to the best available local mobile data service to keep our systems connected. Depending on project budget and local mobile service charges, we can mirror all images in our MK servers to protect against any data loss caused by theft or damage to the camera system.
A pump and a wiper for the cameras screen are connected to the controller. Depending on the location of the camera system, we can set a regular wash and wipe cycle to guarantee a clear screen. The pump's reservoir can last for up to two years without refilling, depending on the frequency of washing required.
If all is well, the failsafe does nothing! It sits quietly, listening to regular signals sent to it from the computer and router. If these signals change, it reboots the router or computer depending on which is no longer responding.
All our engineering efforts go towards being able to leave the camera unattended for as long as possible.

Occasionally a maintenance visit is still required, and naturally (unless damage has been caused by the client) we visit free of charge.
¶ Transmission and storage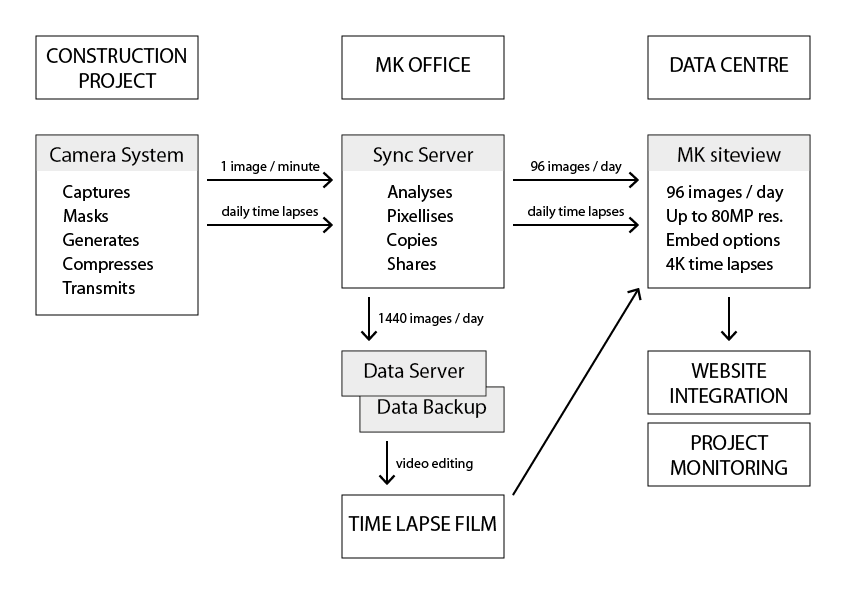 Each camera is equipped with a dual-SIM industrial router with at least 3G/4G capability. As a backup, an M2M SIM is used for worldwide roaming. This allows us to be sure to be connected to our camera systems at all times.
No additional IT infrastructure is needed on site. For your safety and peace of mind, your data is protected in transit by the Block Exchange Protocol v1. This uses TLS 1.2 certificate-based authentication in combination with a "strong cipher suite" and Perfect Forward Secrecy (PFS). This prevents any eavesdropper from ever gaining access to your data.
The raw data from our camera systems is stored on our RAID-5 server, then mirrored and housed separately on a back-up array. After completion of the project, all media is securely archived for those clients who wish us to do so.
For projects with special security requirements, a data store can be set up to save the data additionally or exclusively on the client's premises.
In parallel with the storage of the raw data, we upload images to an online archive for our clients. The transmission is encrypted and the data is hosted in a German data center.
We create and adjust this archive individually according to your wishes, whether it is to be publicly available online or to be used internally and password-protected for the internal use.
¶ Rights and protection
As one of our clients, you have unlimited usage rights to all images recorded and movies produced during your project, with the freedom to share and distribute as desired. You can show the films and photos at trade fairs, events and internet portals, publish material to TV channels and integrate them into your company presentation.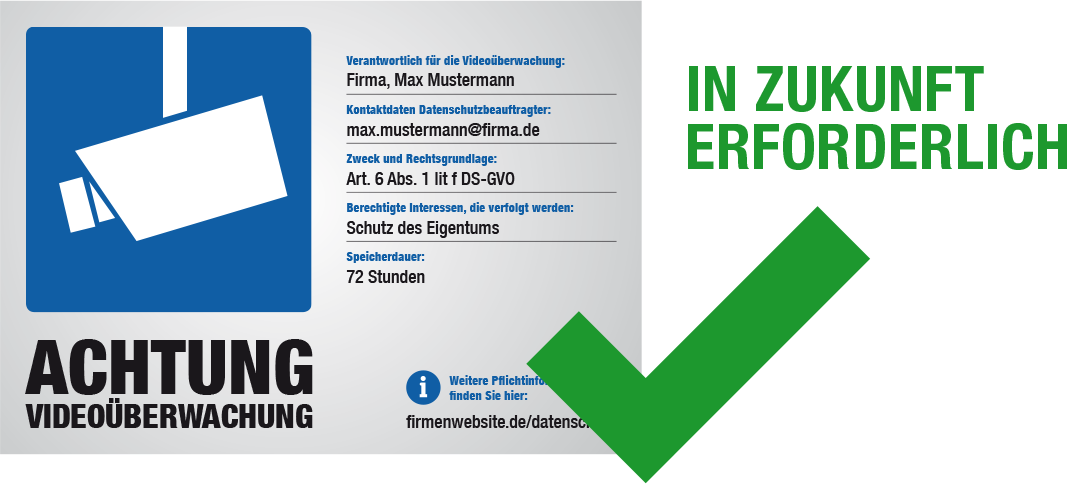 When installing a camera on a site, all clients need to be aware of data protection in any cases where recognisable images of people, their homes or their vehicles may be captured.
In some countries (like Germany) you may need to put up a sign. We can mask out and pixellate public areas around your site.
The way our cameras capture images, if they are placed up high as is usual for construction projects, people onsite are usually very small and already blurred.
As an option we do offer further pixellation of any still-recognisable people or number plates seen within the otherwise unmasked area of your project's site. Please contact us for details.
Once we've got all your data from your project back to the office, our editing team will set to work on creating your final time lapse film. Because we take an image every minute (sometimes more!) to get our buttery-smooth results, we have a lot of footage to work through.
Initially the footage goes through a phase of 'pre-selection' where we pull out all the on-site action and any other events of interest, for example beautiful sunsets, sunrises, weather events or even new year firework displays. This footage is then edited more carefully with music to produce a video made to your specifications.
If you're not already familiar with our videos, please visit our YouTube channel and take a look!
https://www.youtube.com/mktimelapse
This is where we would like your input. You may have requirements or questions with regards:
This largely depends on where you will be displaying the movie. We will usually edit in 4K then also provide a FHD version. This also depends on which options you have paid for with regards the camera type, whether 40, 50 or 80 MP.
| Resolution | Aspect Ratio | Horizontal (px) | Vertical (px) |
| --- | --- | --- | --- |
| Full HD (FHD) | 16:9 | 1920 | 1080 |
| 4K UHD-1 | 16:9 | 3840 | 2160 |
| 5K | 16:9 | 5120 | 2880 |
| 8K UHD-2 | 16:9 | 7680 | 4320 |
We usually make the video at a lower resolution than the camera's output, this way we have the freedom to zoom into and pan across the images without losing quality. Click on the above-right image for a more visual look at different resolutions.
We usually cut our videos in a widescreen 16:9 aspect ratio.
You may also want a 1:1 (square) version for use on Instagram, for example. Or maybe the display you're most likely to view or share your video on is a portrait smartphone, or a 4:3 screen. While users can rotate their smartphone screens for a widescreen video, many do not.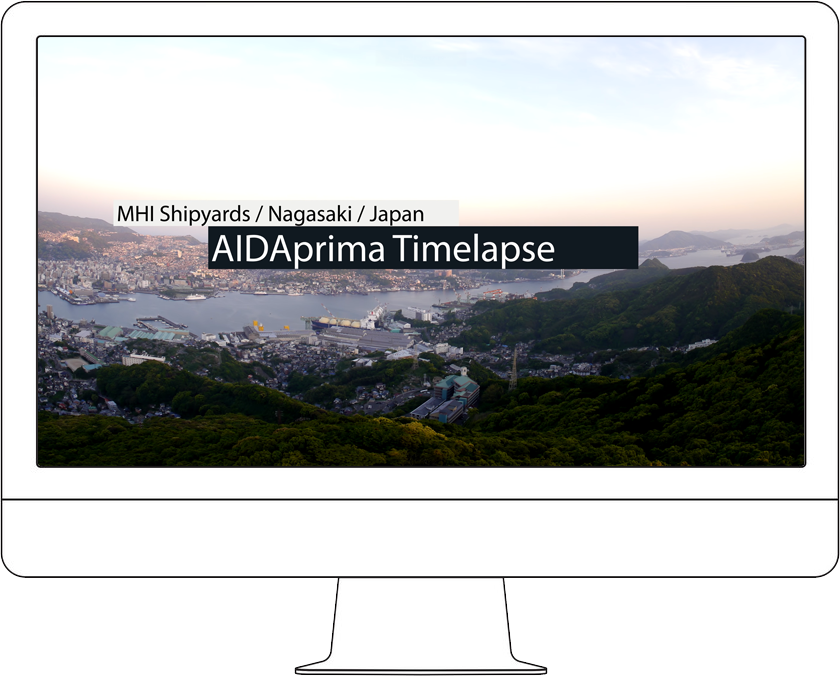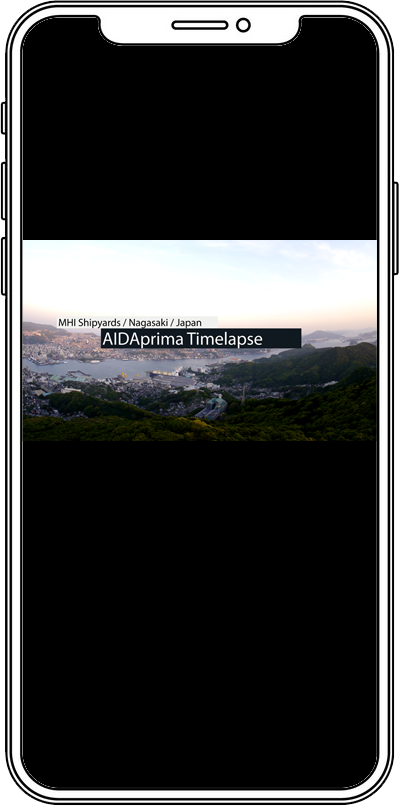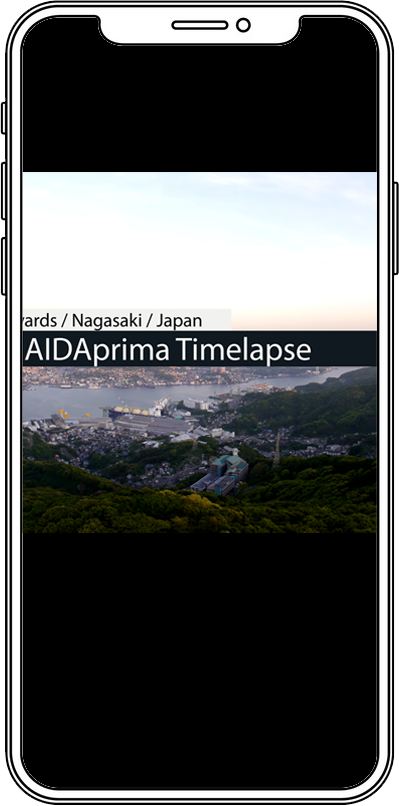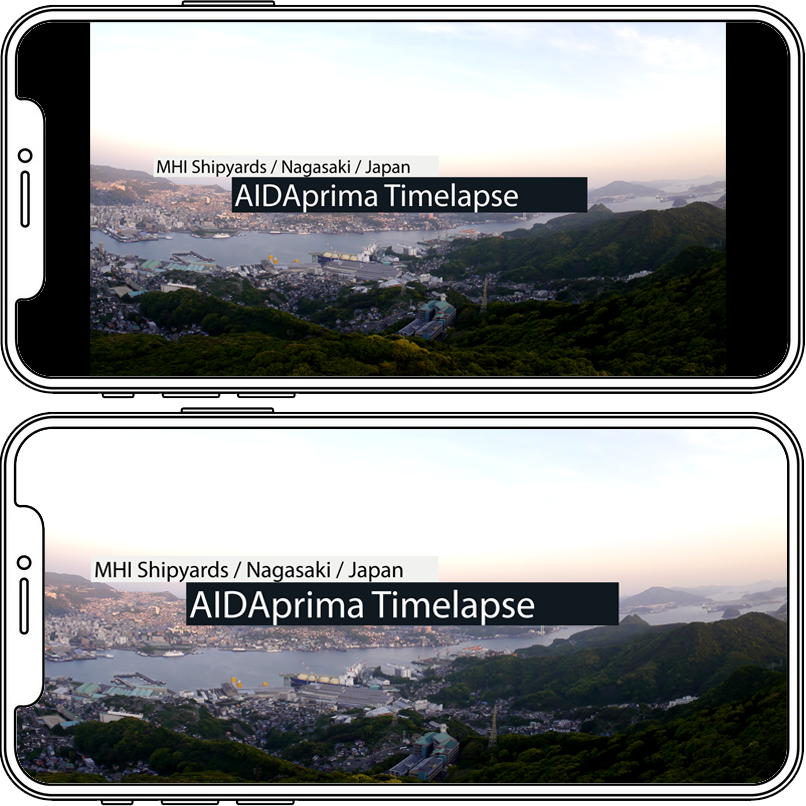 Please let us know what variants you will need as soon as you know - ideally before final video editing begins.
¶ Titles and text
Getting the resolution and aspect ratio correct for the target display is vital for the titles, captions, and any other graphics that the client requires in a final film.
Anything placed in the corners or close to one side or another will of course get lost if a widescreen file is uploaded and cropped down to something narrower for posting to social media, for example. Text designed to be seen on a huge lobby display screen may become illegible when viewed on a smartphone.
Generally we will source music that we feel befits your project. However, we can use any music that copyright allows as long as the cost of buying the rights to use a specific piece of music requested by the client is not much above our usual outlay.
Before the final time lapse movie is cut by our editors, you may want to have short 'rush' videos of certain periods during your project. We can quickly create and export unedited videos for your use on social media or other purposes without the delay needed for editing.
For these automated exports, you can still specify the aspect ratio and resolution.
Other information required: time period to be covered and video runtime (length).